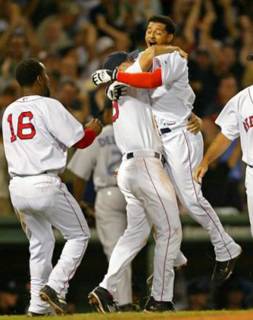 Get your O Face on.


I did all this research yesterday about Orlando Cabrera's stats and contract because I was planning on making a post all about how much I liked him (-my official outing as a Cabrera fan, I've been in the closet for a couple weeks now-) but all that seems frivolous this morning because his game winning wall-ball double last night can speak for itself.

After Dave Roberts broke up a potential double-play that left Johnny Damon on first with one out in the ninth inning I sort of cringed - Cabrera's due up, and I made mental note of his previous performances in just such a situation...not too encouraging. I saw myself very shortly bending over to write "6-4-3- GDP" across his square of my scorecard. I looked at Cabrera at the plate, looking all of 5'6", his body crouched and tense like a little spring, full of potential energy which so often releases itself in the form of a grounder to shortstop but which appears possible of so much more. I braced myself for the worst. But fatalistic resignation turned into shock and awe as Cabrera lifted the second pitch high into the air...omg it's headed over the monster...no wait it looks a little short...just hit the wall just hit the wall - BANG! the ball hits the top of the scoreboard and caroms off straight up into the air, gets fielded cleanly by the centerfielder, relayed to second base, relayed home, and gets there about a half-second after Johnny Damon does. Cabby's got himself a walk-off double, and the Sox win 5-4.

One thing to keep in mind, however, is that the Sox were playing the Toronto Blue Jays, not the Yanks or Anaheim, and that one could argue that perhaps this game shouldn't have been this fraught with peril, but hell - a win is a win, right? Pedro didn't look especially sharp last night, giving up eight hits over seven innings (including two homers,) although he did have six strikeouts. But his counterpart gave up two homers of his own, one to Damon and one to Varitek, and both starters left the game with the score tied at 4. Timlin and Myers combined for a perfect eighth inning, Foulke handled the ninth, and, well, you know the rest.

Two things I'm questioning about the line-up last night: 1) why DH Ortiz when he's dreadful against lefties? Why not DH Mirabelli instead - he's been killing lefthanders this year. And 2) why in the world would you put Cabrera in the two slot? I said I liked the guy, but that doesn't mean I've abandoned reason for madness - he belongs batting seventh, tops.

And some more bad injury news - Youkilis was moved to the 15-day DL yesterday with the deep bone bruise he got the other day thanks to Dale Sveum. Dave McCarty was put on the DL with a cyst on his wrist. And Scott Williamson was put on the 60-day DL and will most likely be getting his second Tommy John's surgery, which sort of makes me wonder if he'll be back ever. However, we can all thank our lucky stars that Leskanic is back (sarcasm intended,) Pokey will begin swinging a bat on the next road trip, and the best news of all: Bellhorn could begin his rehab assignment any day now. He was able to take BP with a minimal amount of pain, his thumb having healed better and faster than anyone expected because Mark Bellhorn is a fucking Man with a capital "M" who has fucking ice water running through his veins! Ya!