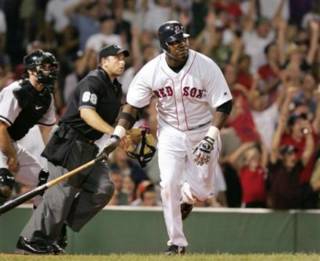 Bam Bam and Pebbles go back to back and the Red Sox win it 4-3.



Dude. What a game. I mean, what a game.

For one thing, I had pride on the line, due to the aforementioned arguement over the merits of Curt Schilling which I had with my husband last night. Second of all, I can't remember the last time the Sox won a game this close, nor can I remember being on the edge of my seat like this any time in my recent memory. But the Sox won. The Sox won!!! Back-to-back homers from Manny "See-I-Told-You-The-Slump-Was-Over" Ramirez and David "Holy-Shit-That-One's-Outta-There" Ortiz and an RBI single from Tek were the only runs scored until the eighth inning, when Ortiz hit another home run to break the tie and pull the Sox ahead 4-3. Then came the nail-biting ninth inning, during which I was secretly convinced that Foulke would blow another save - and the walk he gave up to the first batter didn't help my mindset any, to be sure. I actually hid in the bathroom through one batter because I couldn't bear to watch, but my concern was completely unfounded as Foulke K'ed the last two batters and earned his 15th save of the season. I can't speak for anyone else, but for me personally, I was loving this game. And I was completely geeked about the win.

However...Pedro seemed intent on turning the dugout into some sort of gay rodeo. Example 1 : Pedro and Manny's little homerun handshake (fist-fist-knuckle-kiss-swoop-fucky-fucky-fucky,) and example 2: Pedro's incessant hip-thrusting during the third inning, during which he appeared to be air-humping his little red foam bat. I really don't know what to say about it. It was definitely disturbing. Normally, if you walked up to me and said that I would have the opportunity to watch Pedro thrust and gyrate his hips while standing in a semi-squat with no supporting undergarments on I would sign up immediately. (I'm the same girl that has let off construction-worker-type whistles at players being stretched out by their trainers.) But it made me feel...I don't know...dirty...and I'm the biggest pervert I know.

Eeeew.