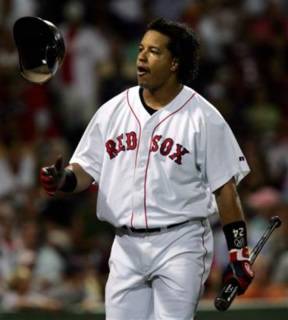 Manny Ramírez stars in "The Cutoff Man." Sox lose to the Orioles 10-4...at least, that was the score when I stopped taking score and went to bed.



I wasn't enraged by this loss. I didn't scream at the television, I didn't tell my husband how much I hated ______ (insert name of offending player/manager/umpire here.) I just filled in my score chart with nothing more than a mental shrug. This disturbs me...I have a reputation (not just in the blogosphere) of being a somewhat vitriolic ranter, and I am a very passionate person - apathy is death. Yet I didn't even bat an eyelash last night when they took their usual flogging from Baltimore. I don't even think I said anything about how much I hate Miguel Tejada and his sulking, pouting sidekick Melvin Mora. I may have even laughed when Manny made that ridiculous cut-off. It's worrisome, I tell you...In short, I'm having a hard time taking this team seriously anymore.
But hey, what do you expect when you turn on the game and see that your infield is composed of Youkilis at third, Bellhorn at shortstop, Mueller at second, and Millar in any position other than ass-down on the bench. Put this lineup behind Derek Lowe, cue up the calliope music and pass the Cheetos, cause that sounds like a party to me. But fortunately Pedro was pitching (9 hits, eight earned runs) so actually the infield defense was passable last night. And Millar went 3-4 with a homerun!! As my husband said as Millar was rounding the bases: "It did something!"
It was the outfield that was cause for concern. I would say that Johnny Damon was about as effective as a circus seal with a baseball glove balanced on its nose last night. Then there was that one play - the one where Damon couldn't get to another ball, finally got to it, fired it toward Mark Bellhorn except that Manny intercepted the throw with a completely unneccesary yet Web Gem-like catch, and then he threw it to Bellhorn and ladies and gentlemen, you got yourself and inside-the-park homerun. Manny was joking about getting a Bronze glove instead of a Gold Glove...how about the Pewter Glove, or the Aluminum Foil in the Shape of a Glove.
Voltaire said "God is a comedian playing to an audience that is afraid to laugh." Well I'm not afraid to laugh. This shit is fricking hilarious, isn't it? Absolutely side-splitting. Unbelievable.