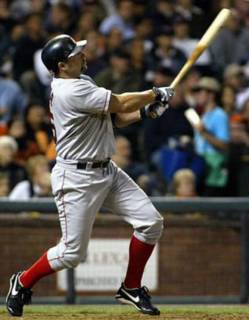 FatBoy's return.



I will admit to having a crisis of faith when I got home in the top of the fourth last night, just in time to see Marquis Grissom hit a three-run homer to make the score 7-2. In disgust I turned over to the Yankees game and go figure, they were winning. I sat in my chair determined not to watch any more of the Sox game, but I'm like a battered wife for the Red Sox - I just keep coming back for more, no matter how badly they treat me.
So I turned back to the game and lo and behold - I was rewarded for my lack of willpower with a seven run fifth inning. Ortiz and Manny went back to back with homeruns, and FatBoy continued the rally with a three-run homer of his own. At innings end the score was 9-7 Sox. But the fun didn't stop there. Nomar and Mirabelli went back-to-back as well, Trot hit one in the ninth, and the final score was 13-9. It was a very fun game to watch, but my favorite part of the game was something that didn't happen on tv. My friend Paulie (BucketHead) called me around midnight from PacBell to tell me how great the game was and how drunk he was and how much shit he was talking to Giants fans. I was green with jealousy. I guess that pays me back for calling him from Jacob's Field in May to tell him that I was in front row, centerfield getting ready to watch Schilling pitch.
With the Sox having scored 25 runs in the last two games and the Yankees losing back to back games for the first time since 1845, the Sox are now 3.5 back.
I would love to watch today's game (Pedro vs. Bonds, plus the added spectacle of Pedro in a batting helmet with his .095 lifetime batting average,) however, stupid goddamn FOXsports has decided to broadcast the Yanks/Dodgers game instead, so even though I paid $150 dollars for the MLB Extra Innings cable package I'm still not going to be able to watch the ONLY FUCKING INTERLEAGUE GAME I've had any interest in. Bastards. A pox on them and their families.
Schill's ankle is stable and he will be making his next scheduled start on Tuesday at Fenway vs. the Twins.