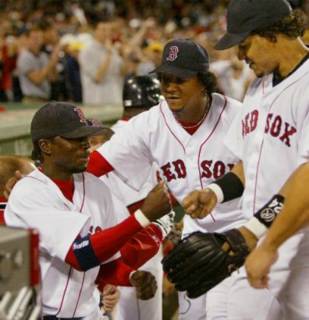 Big ups to Pokey! Sox beat Dodgers 4-1, win second straight interleague series.



Tonight was a very fun game to watch. Mike and I ran across the street to the convenience store to buy junkfood and malt liquor, I took a quick bath and by the time I was out the game was on. Pedro gave up a run in the first inning, but the Sox quickly made it up in the bottom of the first thanks to an RBI single from Manny. After about six pitches from Nomo I was already tired of watching his queer-ass wind up. In the fourth or fifth inning (I can't remember so sue me) the Sox scored three runs, two of which came as a result of a wall-ball double by Pokey Reese. And if that weren't enough, Pokey had an absolutely amazing catch to end the seventh inning and more than likely save Pedro's win. I swear to god it looked like he jumped about three feet into the air to grab a line drive by Roberts. Pokey is the man, you can believe that. Once Nomar gets up to speed you won't be able to drive a golf ball through the infield.
The thing I loved most about tonight was to see another strong outing by Pedro. Once again, his curveball was filthy, and he was able to hit up to 94 mph with his fastball. At times it seemed like he struggled a little bit with his location, but in true Pedro fashion he was able to come through when it counted. And I always love to see Pokey have a good game. The Sox seemed relaxed and happy tonight - I think good things are right around the corner.
Speaking of good things, Trot will be joining the Sox on their road trip to Colorado and may be activated as soon as Wednesday! Whoopeeeee!
Oh, and almost forgot to mention that I read on Yahoo that the Sox shopped Derek Lowe to the Padres for Adam Eaton, but that the Padres weren't biting. Guess we know one free agent that won't be back in 2005.